Losing your job is devastating. For an employee, it's not just lost income, it's losing an identity and community of colleagues. Worrying about the logical next step can feel overwhelming.
Letting workers go is an unpleasant experience for managers, too. However, they can take steps to make layoffs as positive an experience as possible. Termination with dignity should always include outplacement services to help workers take a step forward in the next chapter of their careers.
What Are Outplacement Services?
Outplacement services provide assistance to employees in finding new work. It can include things like resume reviews, job searching advice, interview training, personalized coaching, and career assessments. It helps outbound employees get back to work faster and helps companies protect their brand.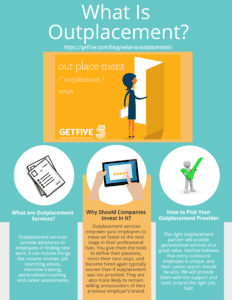 Why Should Companies Invest In Outplacement Services?
First, it's the right thing to do for employees. Layoffs are difficult, and knowing you are helping employees succeed makes the best of a bad situation.
Second, a lot can go wrong in the process when the stakes are high. The rise of social media and employer review sites have forever altered the landscape of what kinds of details are shared about companies. If you want to maintain your employer brand, it's wise to take the high road and offer terminated employees outplacement services. Remember, 69 percent of job seekers would not take a job with a company that has a bad reputation, even if unemployed, according to a Glassdoor survey.
Finally, outplacement services empower past employees to move on faster to the next stage in their professional lives. You give them the tools to define their passions, direct their next steps, and become hired again typically sooner than if outplacement was not provided.
How To Find The Right Outplacement Service Partner
The right outplacement partner will provide personalized services at a great value. GetFive believes that every outbound employee is unique, and their career search should be also. Each outbound employee is personally matched with a certified coach to ensure compatibility. A coach is a strategic adviser, not just a resume editor. In addition to private coaching, professionals also have access to weekly strategic small group meetings.
For those who've just been terminated, the main concern is getting through those tough first weeks — reassessing their goals, getting back on their feet, and believing in their future. Then, they want the support and tools to land the right job, fast. GetFive experts connect with outbound employees the day they're let go, grounding them so their emotions don't catch fire and your reputation doesn't get charred.
GetFive routinely works with companies who give their employees as much as two months' notice, allowing them to begin using outplacement services while still at their jobs — the period when they're at their most marketable. They are far better prepared to hit the ground running when their employment ends and more likely to remain willing ambassadors of their previous employer's brand, endorsing their company online and among their peers, or at least standing neutral.
SaveSave