Since most are only forced to undertake a job search every few years, few people can count themselves as experts when it comes to conducting a job search.
With this in mind, let's take a look at the building blocks of a good job search. The more you can incorporate these elements, the easier it will be for you to land that dream job.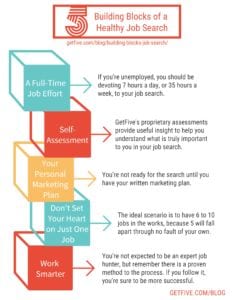 1. A Full-Time Effort
If you're unemployed, you should be devoting seven hours a day, or 35 hours a week, to your job search.
Whether this means doing fresh internet research, writing targeted letters, or making phone calls, you need to be disciplined in the way you would be disciplined with a full-time job.
2. Self-Assessment
Many come to GetFive in a rush to get a new job and don't want anything to slow them down. But skipping the assessment tools (The Seven Stories and The Forty-Year Vision) will slow you down in ways you don't understand.
People who put a lot of effort into these exercises do better in their job searches. They allow them to focus and to understand the things that are truly important to them. So while you might be in a rush to find a new job, be sure to slow down.
3. Your Personal Marketing Plan
You're not ready for the search until you have your written marketing plan.
These are constructed by:
Outlining your ranked target industries;
Listing the names of the companies or organizations in each target;
Specifying how you plan to reach out to them.
4. Don't Set Your Heart on Just One Job
The ideal scenario is to have six to 10 things in the works, because five will fall apart through no fault of your own. So work your marketing plan, network, and don't ease up, even when you start to schedule interviews.
5. Work Smarter
A good job search is based on a realistic analysis of how effective the resumes and interviews are while you're job hunting. To do this, use the Stages 1, 2, and 3 assessment tool to assess the quality of your efforts.
You're not expected to be an expert job hunter, but remember there is a proven method to the process. If you follow it, you're sure to be more successful.