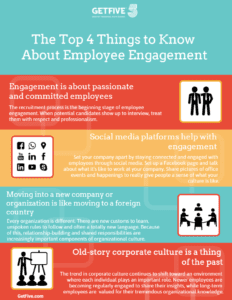 Gone are the days of a list of commandments being passed down from senior management. Companies today are refining hiring and employee-development practices as attitudes around corporate culture continue to change. Corporate executives are examining employee perceptions about corporate culture and implementing innovative solutions targeted at better engaging individuals during the recruitment process, as well as after they've been hired. Engaged employees mean less turnover and create a better environment overall.
Engagement is about passionate and committed employees
The recruitment process is the beginning stage of employee engagement. When potential candidates show up to interview, treat them with respect and professionalism. Greet them properly, show them the restroom and give them a copy of the company magazine or something to occupy their time while they wait. If the interview gets delayed, make sure someone is able to explain why.
Social media platforms help with employee engagement
Set your company apart by staying connected and engaged with employees through social media. Set up a Facebook page and talk about what it's like to work at your company. Share pictures of office events and happenings to really give people a sense of what your culture is like.
Moving into a new company or organization is like moving to a foreign country
Every organization is different. There are new customs to learn, unspoken rules to follow and often a totally new language. Because of this, relationship-building and shared responsibilities are increasingly important components of organizational culture. The days of individuals grinding away at one or two limited tasks are no longer.
Old-story corporate culture is a thing of the past
The trend in corporate culture continues to shift toward an environment where each individual plays an important role. Newer employees are becoming regularly engaged to share their fresh insights, while long-term employees are being valued for their tremendous organizational knowledge.