The M.I.D., as we call it, is curated by our editorial team from more than 50 news sources. Like a lot of good ideas, this started as something I wanted for myself. If I can't read everything, I at least want to stay abreast of the most important developments.
This week in HR, we got a master class in how NOT to lay off employees remotely, we learned HR needs to revise 2022 budgets STAT, Inc. wrote about a company that started with HR in mind, and we got the news that nobody in Gen Z wants to work after 55.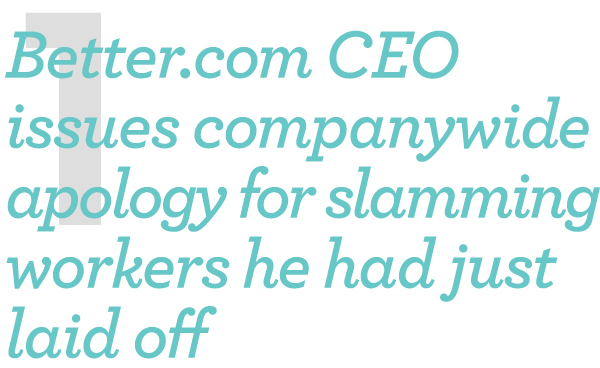 Better.com CEO Vishal Garg issued a companywide apology via email to the company's remaining staffers Tuesday afternoon after coming under fire for criticizing 900 workers he had just laid off. "I own the decision to do the layoffs, but in communicating it I blundered the execution. In doing so, I embarrassed you," Garg wrote in the email, two copies of which were independently sent to Fortune. He went on to say that how he had communicated the layoffs had made a "difficult situation worse" and that he was committed to learning from the mistake. The email follows a tumultuous week at the online mortgage company during which Garg announced he was laying off 9% of the staff across the U.S. and India, then hosted a subsequent call with remaining staffers in which he allegedly said he should have terminated employees earlier and would watch productivity closely. Soon after, Garg anonymously claimed on a professional networking app that hundreds of the laid off employees were underperforming and therefore "stealing" from colleagues and customers. He later confirmed to Fortune that he had posted the comments. Fortune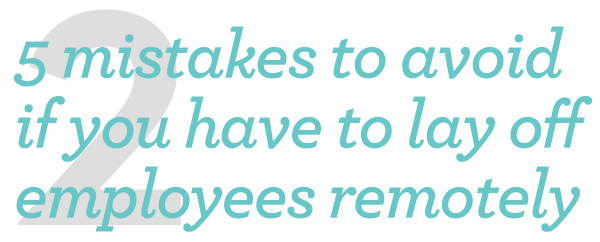 How you let employees go matters for your company's reputation. Consider Better.com's CEO, who just fired roughly 900 employees in a very brief Zoom call and quickly faced backlash. No one will ever react positively to hearing they are terminated — whether it's due to balance sheet problems or their own performance. So it's incumbent on the person delivering the bad news to be as thoughtful as possible in how they conduct themselves and how they treat the people being let go. The best practice is always to break the bad news in person. If that's not possible, and you must do it via video conference or phone call, you can still put a human touch on it. Here are some mistakes to avoid if you have to let people go remotely (spoiler alert: try to avoid a large group Zoom, or for that matter, an impersonal email): Catching employees off guard, forgetting to practice with the technology, failing to give people privacy, trying to shut down employees' access to the network too soon, and not being honest and compassionate. CNN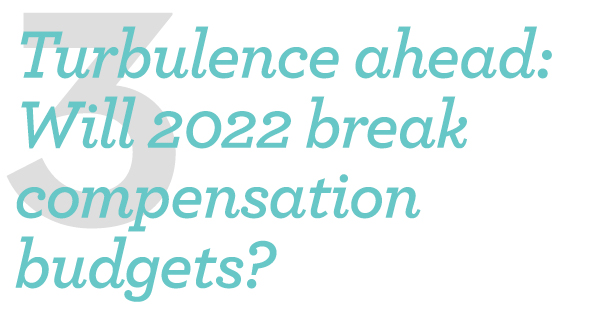 Going into 2022, workers' pay is all about supply and demand — and inflation. With more job openings than people looking for work and inflation at the highest level in two decades, topping 6% year-over-year in October, employers face pressure to increase salaries and hourly wages. In this environment, pay is driving workers' decision to change jobs, according to a 2021 survey of 1,404 workers by software company Ceridian, showing that surveyed workers would consider leaving their current job for the right opportunity (36%), and are actively looking for a new job (24%). Among the top drivers of this decision were workers' desire for higher salary and better benefits (49%) and greater flexibility, such as remote work and flexible hours (33%). Compensation budgets that just a few months ago projected increases of 3% to 3.3% for the year ahead are likely to be revisited and (if company finances are sufficient) revised upward. SHRM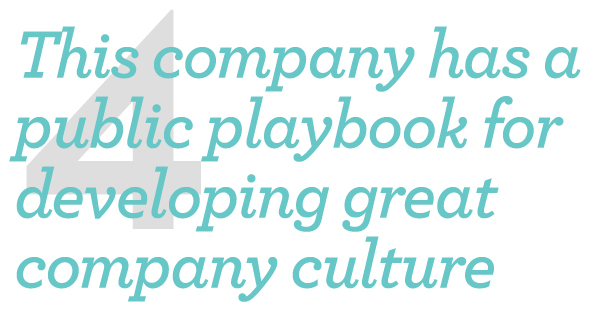 Even before he officially started his company, Ryan Breslow knew that its culture would be make or break. He knew it before he hired his first 10 staffers, before he built his first product. Heck, he knew it before he pivoted from a cryptocurrency research project in college to a fast-growing digital-checkout business. "We've had a culture playbook almost since Day One," says Breslow, the founder and CEO of the San Francisco-based checkout-and-payments-security company Bolt, which he launched in 2014. From that early period he also had plans to build his scrappy vision into a large, iconic company. To begin on that path, he leaned on a quote from New England Patriots coach Bill Belichick: "The score takes care of itself." "If we focus on the people and we make smart decisions and we hit goals and we have impact, the score will take care of itself," Breslow says. "We'll raise the money, we'll get the headlines, we'll get the valuation. Everything else will come. We've just got to focus on hiring great people, scaling, executing. That's always been my philosophy." Inc.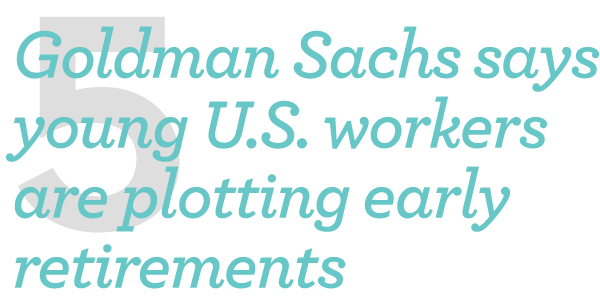 They've only just entered the workforce, but a significant swath of the newest crop of U.S. employees are already making plans for an early exit. A full 25% of Gen Z respondents in a new survey by Goldman Sachs Asset Management said they plan to retire before the age of 55. That's in line with the latest trend of reevaluating and even simply quitting work early, but out of step with the realities of more recent retirees. A majority of the retired people Goldman polled did in fact leave the workforce early. But they did so later in life: The most common retirement age was between the ages of 60 and 64. Only 8% retired before the age of 55. "Our biggest takeaway for younger workers is that they may need to plan with more realistic assumptions," said Jeri Savage, head of defined contribution research for multi-asset solutions at Goldman Sachs Asset Management. Such assumptions go beyond retirement age. A broader group of young workers — those under 40, which includes millennials — seem to think they will need less money annually in retirement relative to the traditional rule of thumb of 80% of pre-retirement income. (Even that figure has been deemed too low by some experts.) Nearly a third of respondents under 40 said they think they'll need 60% or less. Bloomberg