The MID, as we call it, is curated by our editorial team from more than 50 news sources. Like a lot of good ideas, this started as something I wanted for myself. If I can't read everything, I at least want to stay abreast of the most important developments.
This week in HR, companies were uncertain about the vax mandate, Inc. released its list of the best-led companies of 2021, CHROs urged us to re-recruit employees, Google was still toying with the remote pay cut, and silos threatened hybrid workplaces (but they also did pre-pandemic, so now's the time to act).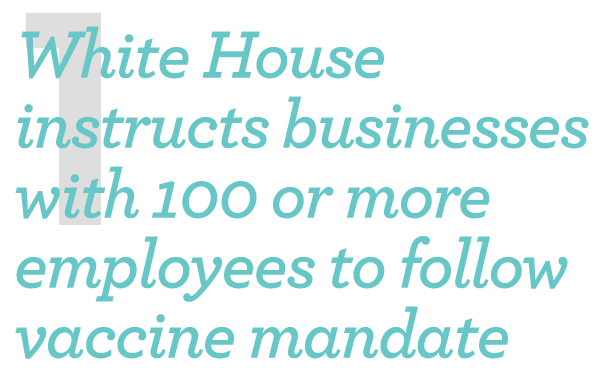 As the legal battle continues over the Biden administration's vaccine mandate for private businesses, the White House is calling for employers to adhere to the new rules if their business has 100 or more employees. Deputy press secretary Karine Jean-Pierre said Monday that employers "should not wait" for legal matters to be settled before choosing to follow the order, which would take effect Jan. 4 unless blocked by the courts. "We say do not wait to take actions that will keep your workplace safe. It is important and critical to do, and waiting to get more people vaccinated will lead to more outbreaks and sickness," she said. A federal appeals panel in New Orleans temporarily suspended enforcement of the administration's rule on Saturday in response to a lawsuit filed against the mandate by GOP-led states and businesses. The Justice Department filed a response to that decision on Monday, and more developments are expected in coming days. The Washington Post


They are the unsung heroes of the U.S. economy. Companies with annual revenue between $50 million and $2 billion. They're lithe enough to maneuver, but big enough to have a broad impact. They employ 35 million people — about one in four U.S. workers. They deliver nearly 40% of the country's economic vitality. They are America's midsize companies, and it's time they are recognized. Looking at 14 different points of comparison, Inc. is for the first time ranking management excellence across the middle market — because thriving companies tend to be well run. In aggregate, the 250 public and private companies, identified here with the help of Inc. chief data scientist Arnobio Morelix and Shango Labs, created more than 540,000 jobs and generated more than $140 billion in annual revenue. The results are the following kernels of hard-won wisdom and sage advice — on everything from hiring and retaining top talent to putting out fires and managing amid a crisis. Because it's one thing to sing the praises of these heroes of the U.S. economy. It's a far better thing to learn from them. Inc.


As companies continue to lose top talent during the Great Resignation, many are quickly trying to fill vacancies by pivoting their recruitment and hiring strategies — adding sign-on bonuses, emphasizing a commitment to flexibility, upping their investment in corporate social responsibility. Instead of focusing solely on hiring new talent, however, HR leaders should also concentrate on "re-recruiting" their existing employees to reduce flight risk and build an invested, engaged workforce. That was the consensus of a panel of CHROs who belong to the Institute for Corporate Productivity's CHRO Board and who spoke during a session Tuesday at the organization's Next Practices Now conference. "There is a war for talent and the pool we're trying to siphon from is really small, so now more than ever, HR has to have a tight, strong bond with the business and be agile in its thinking," said Clint Wallace, senior vice president of HR at global life sciences company Sanofi. Among its efforts, Sanofi has laid out aggressive diversity and inclusion ambitions, sought to be proactive about creating the new hybrid workplace and rolled out new reskilling and digital transformation initiatives. HR Executive


Millions of people are seemingly ready and willing to take a pay cut to continue working remotely. Sixty-one percent of American workers; four in 10 Londoners; more than a quarter of office workers in the UK. Breathless media reports on the trend cite a lot of statistics, but few have found any people happily slashing their monthly household budgets. In fact, when you look at the major technology companies actually bringing in these remote pay cuts, many employees are choosing to cut and run. "I'm job hunting," says "Mike," a senior software engineer for Google in the northeastern U.S., who moved to a new home during the pandemic. (Some names have been changed in this article.) He wants to continue working for the company remotely, but the pay cut he'd have to take to do so is equivalent to losing four years of pay increases. "Any pay cut is unacceptable, and it's been presented as a 'take it or leave it' proposition," he says. "Google is telling us to vote with our feet if we don't like the situation. I love the work we do, but that's a lousy bargain." Wired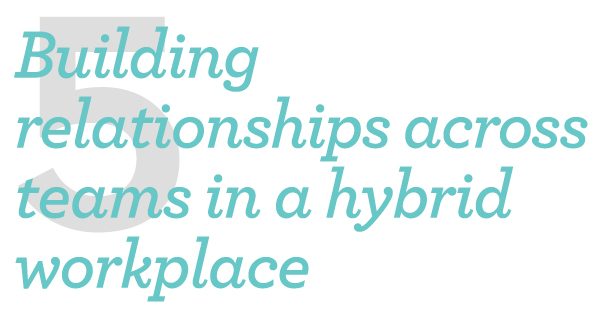 As people slowly return to some form of hybrid workplace, bonds that tie them to one another must be rebuilt. Over the past 18 months, most organizations have experienced some degree of fracturing as social connections and cultural cohesion have been strained. The challenges of remote work, dramatic uncertainty, the clumsy process of figuring out what returning to the office could look like, and the mass exodus of workers fed up with cultures that make them feel devalued have all served to threaten a sense of community. On top of all that, most of our remote work interactions have been with our immediate colleagues and focused largely on the tasks at hand — research from Microsoft suggests that cross-functional collaboration went down by 25% as interactions within groups increased during the pandemic. HBR