The MID, as we call it, is curated by our editorial team from more than 50 news sources. Like a lot of good ideas, this started as something I wanted for myself. If I can't read everything, I at least want to stay abreast of the most important developments.
This week in HR, CEO Barry Sternlicht said the government should pay people to go back to work, people were disgruntled about pay raises, Texas' governor caused an HR headache, HR was reminded to cast its hiring net wide, and we got a mindblowing perspective on DE&I.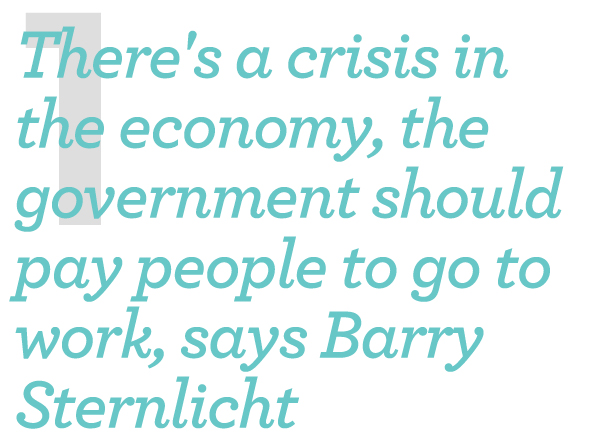 The shrinking U.S. workforce during the Covid pandemic is "going to cripple" the economic recovery, billionaire investor and businessman Barry Sternlicht warned Wednesday. The founder of Starwood Capital Group said the federal government should pay people to go back to work, not to stay home. "The whole service economy is in a crisis, whether it's a restaurant, a pizzeria, a laundromat, a small shop. Amazon can raise wages, no problem," but mom-and-pop shops can't, Sternlicht said on CNBC's "Squawk Box." He said the low labor participation rate, while there are millions of job openings, is "really hurting the underbelly of the U.S. economy." Employment vacancies, which fell to 10.44 million during August, are still historically off the charts. The Labor Department's latest Job Openings and Labor Turnover Survey, released Tuesday, showed the shortage was exacerbated by a record 4.3 million workers quitting their jobs in August. CNBC

Rising inflation is eating up workers' paychecks faster than employers are doling out raises. At its last reading in September, the consumer price index was up 5.4% year over year. That's the biggest uptick since the oil shock in the summer of 2008. It's also more than double the average rate of annual inflation (2.2%) the U.S. has experienced this century. This sizable uptick in inflation is, of course, eroding the purchasing power of the dollar: Anyone who hasn't gotten a pay raise in 2021 has, in an economic sense, taken a hefty pay cut. According to the U.S. Bureau of Labor Statistics, an American earning $100,000 in January 2021 would need to earn $104,866 as of September 2021 to maintain the same purchasing power. That means workers would have needed a 4.87% raise just to keep up with inflation through the first nine months of the year. The problem: Most workers aren't seeing that big of a raise. The Conference Board finds the typical raise this year is 3%. But unlike past years, that's not enough to outpace inflation. On an inflation adjusted basis, the Bureau of Labor Statistics finds the rise in inflation — along with stimulus dollars leaving the economy — means "real wages" in 2021 are actually falling. Fortune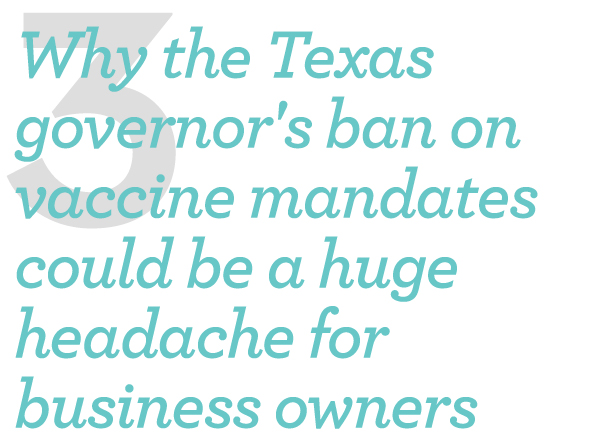 In an executive order issued on Monday, Abbott, who is vaccinated, wrote that "No entity in Texas can compel receipt of a COVID-19 vaccine by any individual, including an employee or a consumer." The order encouraged Texans to get vaccines but says they must be optional. Abbott's fiat introduces issues of executive authority and conflicts between state and federal guidelines, says Jennifer Spiegel Berman, CEO of Baltimore-based MZQ Consulting and an employee benefits lawyer. The fallout, she adds, will be a hassle for business owners. Federal contractors operating in Texas could be violating state regulations by following federal ones, for example. Recently President Biden has issued several vaccine and testing mandates, one of which is to be implemented through the Occupational Safety and Health Administration (OSHA) for companies with more than 100 employees. Both that and Abbott's executive order are likely to be challenged, and Berman says she wouldn't be surprised if either goes to the Supreme Court. The end result: whiplash. "There will be a million lawsuits," she says. "We're all kind of scratching our heads." Inc.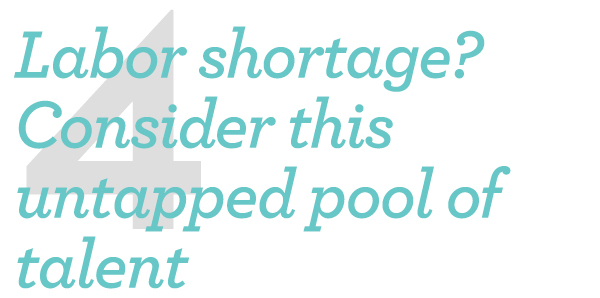 Businesses across the country are facing a labor shortage. Employers are struggling not only to bring back many of the workers they let go earlier in the pandemic but also to retain their existing employees. Adding to this challenge, the "great resignation" is far from over — our research found that 37% of U.S. workers are likely to search for a new job in the next six months. One way to address this labor shortage — while also addressing companies' commitments to diversity, equity and inclusion — is to focus on hiring people with disabilities, who are disproportionately under-employed or unemployed. In August 2021, just 19.2% of people with disabilities were employed, compared to 63.9% of people without disabilities. As employers across the U.S. consider the "new normal" of the American workplace, they have a historic opportunity to address the barriers that too often exclude people with disabilities from the workforce.  HR Executive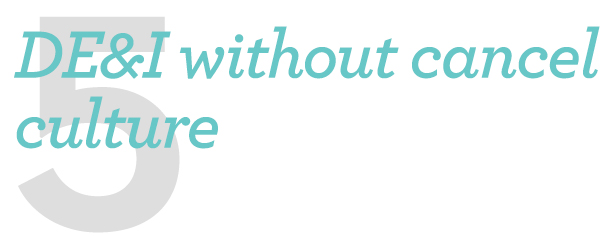 Often in circumstances where someone voices opposition to a DE&I initiative, the reaction is hostility, rejection or avoidance. The operating assumption is that there's something wrong with the person who voiced the opposition. He or she is the problem, the obstacle, and some may call for the person to be "canceled." These negative assessments and the negative feelings and emotions they generate will undermine the overall DE&I initiative. The negativity translates into resistance, passive or otherwise. In the end, you may have diversity. But you won't have inclusion. Alexander Alonso, Ph.D., SHRM-SCP, SHRM's chief knowledge officer, describes this problem as "diss-versity." Simply put, he explained, "this refers to seeking people who look different from you but believe in the same things." He said DE&I initiatives that practice diss-versity undercut their organizations. In my experience, for any DE&I initiative to be truly successful, it will likely include employees whose personal views don't exactly align with the DE&I principles.  SHRM