Feel stuck in your present position? Peel off your old label, slap on a new one, and position yourself for somet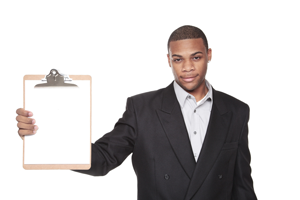 hing different. Build a strong resume that positions you for the job you want.
Whether you're an accountant who wants to go into sales or an operations person who dreams of being a trainer, the challenge you face is the same: You have to convince people that, even though you don't have experience, you can handle the new position.
It's a little like show biz: You play the same role for years and then you get typecast. It can be difficult for people to believe that you can play a different role. To move on to new challenges, you have to negotiate into the new job by offering seemingly unrelated skills as an added benefit to the employer. The key to these negotiations is positioning yourself.
Positioning
Simply put, positioning yourself means stating your skills and qualities in a way that makes it easy for the prospective employer to see you in the position that is open or in other positions down the road.
You may want to stay in your present organization. In that case, you are positioning yourself to the person in charge of hiring for the particular department you want to enter. Or you may want to go to a new organization or even a new industry. In this case, you are positioning yourself to a new employer. Either way, the steps are the same.
1. Determine what skills and qualities your prospective employer wants.
2. Search your background to see where you have demonstrated skills and qualities that would apply.
3. Write a summary at the top of your résumé to position yourself.
4. Use the same summary to sell yourself in an interview.
Your summary says it all. It should sell your ability, experience, and personality. It brings together all your accomplishments.
The rest of your résumé should support your summary. For example, if the summary says that you're a top-notch marketer, the résumé had better support that. It's completely within your control to tell whatever story you want to tell. You can emphasize certain parts of your background and de-emphasize others.
You can get typecast. To move on, you have to negotiate into the new job by positioning yourself.
Thinking through your summary is not easy, but it focuses your entire job hunt. It forces you to clarify the sales pitch you will use in interviews.
However, many people don't put a summary that positions them on their résumés. They say they want "a challenging job in a progressive and growth-oriented company that uses all my strengths and abilities." That doesn't say anything at all, and it doesn't do you any good.
Résumé: Your Written Pitch
Make sure the first words on your résumé position you for the kind of job you want next, such as "Accounting Manager." Line two of your résumé, also centered, should separate you from all those other accounting managers. For example, it could say, "Specializing in the publishing industry." These headlines in your summary could then be followed by bulleted accomplishments that would be of interest to your target market.
Most people write boring résumés. To avoid this, keep in mind to whom you are pitching. Tell readers the most important things you want them to know about you. List your most important accomplishments right there in your summary.
It all starts with the Seven Stories Exercise®. Which you will find at the end of this  article. After you have done this exercise, you will talk about your accomplishments very differently than if you just sit down and try to write a résumé. The Seven Stories Exercise is the foundation for the résumé. Write out your work-related stories in a way that is expressive of you as an individual. Brag about yourself the way you would brag to the people in your family or to your friends. Put those words at the top of your résumé. It will make for a much more compelling piece of paper.
Let's consider a few examples of summaries that will work for you.
Pursuing the Dream Job
Jane, a client-relationship manager at a major bank, has handled high-net-worth clients for more than 20 years. She is taking early retirement and thinking about a second career. Two directions are of interest to her: a job similar to what she has done but in a smaller bank, and the job of her dreams—working as one of the top administrative people for a high-net-worth family (such as the Rockefellers), handling their business office, and perhaps doing some of the things that involve her hobbies over the years: staffing and decorating.
If Jane were to continue on her current career path and go for a position as a relationship manager at a smaller bank, she would highlight the years she has worked at the bank. Her summary, if used in her résumé, would look like this:
Over 20 years handling all aspects of fiduciary relationships for PremierBank's private banking clients. Successfully increased revenue through new business efforts, client cultivation, and account assessment. Consistently achieved fee increases. Received regular bonus awards.
However, to pursue her dream job, Jane's regular résumé won't do. She has to reposition herself to show that her experience fits what her prospective employer needs. Her summary would read like this:
Administrative manager with broad experience in running operations
In-depth work with accountants, lawyers, agents, and others
Over 20 years' experience handling all aspects of fiduciary relationships for bank's private banking clients (overall net worth of $800 million)
Expert in all financial arrangements (trust and estate accounts, asset management, nonprofit, and tenant shareholder negotiations)
Her résumé would also focus on her work outside PremierBank because these activities would interest her prospective employer: first, her work on the board of the high-class apartment building of which she was president for 14 years, and then the post she held for 10 years as treasurer of a nonprofit organization. Finally, Jane would highlight accomplishments at PremierBank that would be of interest to her prospective employer, such as saving a client $300,000 in taxes.
Ready to Take Charge
Robert had worked in every area of benefits administration. Now he would like to head up the entire benefits administration area—a move to management. His summary:
14 years in the design and administration of all areas of employee benefit plans
Five years with Borgash Benefits Consultants
Advised some of the largest, most prestigious companies in the country
Excellent training and communications skills
MBA in Finance
From Supporting to Selling
Jack wants to move into sales after being in marketing support. His prior résumé lacked a summary. Therefore, people saw him as a marketing support person rather than as a salesperson—because his most recent job was in marketing support. He has been an executive in the sales promotion area, so his summary stresses his internal sales and marketing as well as his management experience:
Sales and Marketing Professional with strong managerial experience
Devise superior marketing strategies through qualitative analysis and product repositioning
Skillful at completing the difficult internal sale, coupled with the ability to attract business and retain clients
Built strong relationships with the top consulting firms
A team player with an enthusiastic approach to top-level challenges.
Notice how he packages his experience running a marketing department as sales. His pitch will be: "It's even more difficult to sell inside because, in order to keep my job, I have to get other people in my company to use my marketing services. I have to do a good job, or they won't use me again."
If you do not have a summary, then, by default, you are positioned by the last job you held. In Jack's case, the employer would receive the new résumé with the new summary and say, "Ah-ha! Just what we need—a salesperson!"
Sophisticated Positioning
Here are how some people repositioned their backgrounds in a sophisticated way. Jeff had been in loan-processing operations in a bank. Outside financial services, not many organizations do loan processing. To position himself to work in a hospital, Jeff changed his positioning to transaction processing because hospitals process a large number of transactions, but not loans. Otherwise, they would look at his résumé and say, "We don't need to have loans processed."
In fact, a lot of people work in banking, but many see themselves as working for information services companies. Money is sent via computer networks and wire transfers. They are passing information, not currency.
Nydia had worked both at banks and at pharmaceutical companies. Because of her target,
she positioned herself as having worked in regulated industries.
David saw himself as an international human resources generalist but was having difficulty with his search. There were no international jobs in his field, so he should not position himself as "inter-national."
Now, think about your target market and how you should position your background for that target.
Click here for a sample resume case study – with before and after examples.
For the Seven Stories Exercise® to help you develop a better resume, click here.