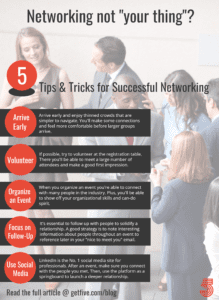 For extroverted professionals, networking events offer a chance to shine. Thriving on the energy of others, they move seamlessly from group to group, mingling with ease. Their charisma and confidence are crystal clear.
And then there's the rest of us.
Networking doesn't come so easy to the majority of people. In fact, many feel uncomfortable when trying to strike up conversations with complete strangers. Fortunately, with a few tips and tricks, you can change that awkwardness into amazing opportunities to make connections and grow your personal brand.
Tip 1: Arrive Early
If you loathe networking events, you probably tend to arrive fashionably late so can you blend into the crowd. For better success, try the opposite. Arrive early and enjoy thinned crowds that are simpler to navigate. It is easier to engage with fewer attendees when the space is less hectic. You'll make some connections and feel more comfortable before larger groups arrive.
Tip 2: Volunteer
If it's hard for you to integrate into a group to mingle, consider volunteering at the event. If possible, try to volunteer at the registration table. There you'll be able to meet a large number of attendees and make a good first impression. While your conversations will be short, you'll be able to connect with many people in minimal time.
Tip 3: Organize an Event
In the same vein as volunteering, when you organize an event you're able to connect with many people in the industry. The difference is you'll be able to connect with some people on a deeper level as you seek speakers and volunteers. Plus, you'll be able to show off your organizational skills and can-do spirit.
Tip 4: Focus on the Follow-Up
If you meet a ton of great professionals at an event, is it considered a networking success? Not really. It's essential to follow up with people to solidify that relationship, otherwise you'll be quickly forgotten. A good strategy is to note interesting information about people throughout an event. Then you can go beyond the "nice to meet you" email and add a link to a story on that local rock band or include a note about how you enjoy rock climbing, too.
Tip 5: Use Social Media
LinkedIn is the No. 1 social media site for professionals. After a networking event, make sure you request connections with the people you met. Then, use the platform as a springboard to launch a deeper relationship. For example, ask local people to meet for coffee to discuss industry trends. For non-local contacts, inquire about a phone conversation so you can learn more about how they broke into the industry or their vision for the future.
GetFive is full of networking tips and advice on all job search topics. Contact us today!
Save