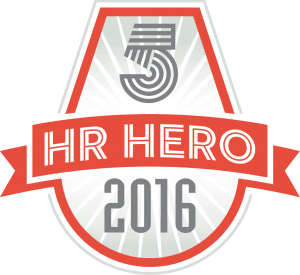 NEW YORK, Jan. 29, 2016 /PRNewswire-iReach/ —  GetFive, a leading national outplacement and career coaching organization, named its 2016 HR Hero Finalists at a breakfast reception at CUNY Graduate Center on January 29th. The annual award recognizes the numerous contributions made by individuals in HR in business or the community.
Four finalists were selected from a long list of impressive nominations submitted by their industry peers:
Elevating the Strategic Role of HR
Bryan Olson, Chief Human Resources Officer, K&L Gates LLP
Bryan's one year plan might be a three year plan for others without his strategic vision and bias to action. At the top of the list of his first year accomplishments at K&L Gates, he redefined the employment brand to match the aspirational values of the firm, reorganized his department, and implemented changes that have enabled more rapid organizational design improvements.
Outstanding Mentorship
Joanne Rencher, Chief People Officer, Girl Scouts of the USA
Joanne believes that mentoring has the power to change lives, which is why she founded Who's Got Next in HR – a platform that encourages HR professionals to challenge the status quo and to believe that they can take their roles to the next level. Her vision is to inspire rising managers to see a promising future, both in and outside of the HR world.
Terminating with Dignity
Dana Aldis, Senior Director, Training, Communications & Culture, LivingSocial
When LivingSocial suffered through a 20% reduction of force, Dana led a cross functional project team with the underlying message that these affected employees are still "LivingSocialites" and were to be treated with the utmost dignity. Her initiative minimized gaps, protected the talent brand and reduced the impact on organizational productivity.
Outstanding Volunteerism
Aleyda Meyers, Director All-Agency Veteran Recruitment & Staffing Initiatives, MTA
Aleyda is known for her passion for helping veterans find productive careers. She is tireless in her efforts to create awareness among NYC-area employers about transitioning military talent and she spends considerable time working one-on-one with service members and leaders of the vet community. Her efforts have resulted in a large number of veterans struggling with transition back into civilian life to secure meaningful careers. She is held in the highest regard by organizations like the Wounded Warrior Project for her dedication to veterans.
"We want to offer our heartfelt congratulations to all the nominees and finalists," said Darren Kimball, CEO of GetFive. "We look forward to recognizing the HR Hero of the Year in early March. We are proud of our excellent relationships with HR professionals and are committed to recognizing these 'unsung heroes' for their many accomplishments. We started this award in 2006 and we are gratified that its following has continued to grow."
About GetFive
GetFive offers cutting-edge outplacement solutions through job search and career development coaching. It has helped more than 100,000 people in transition develop and implement a successful career search, utilizing proprietary research-based methodology and unrivaled, personalized coaching programs. Individuals who adhere to the company's method find new jobs in as little as 10 to 12 weeks, a fraction of the national average. For more information, visit www.getfive.com.
Media Contact: Linsey Odre, GetFive, (212) 286-4500,[email protected]