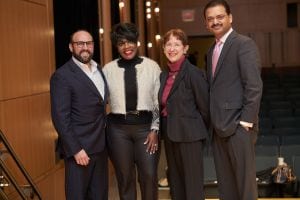 The business landscape continues to evolve at an ever-quickening pace. While women are breaking barriers left and right, there's still very much a feeling of the glass ceiling. Supporting female success is practicing good ethics, but it's so much more than that. Turns out it also strongly influences the bottom line.
"Fortune 1000 female leaders, in a period of 2002 to 2014, those companies saw shareholder returns three times S&P's 500 Index," says Joanne Rencher, Chief Business and Talent Officer at the Girl Scouts of the USA at a recent HR Breakfast Seminar for GetFive.
It's good business for companies to foster a culture that supports women's rise to the top, Rencher says. It shows a company supports equality, plus the payback can be tremendous. Bala Sathyanarayanan, CHRO of Xerox, strongly agrees. Sathyanarayanan emphasizes the importance of fostering women and minority leadership positions at Xerox, in fact, Xerox is the only Fortune 500 Company to experience a woman to woman CEO succession.
"There are tangible rewards to businesses and their investors when more women are in the C-Suite," she says. "It's an important business case to be made. But it also is important for the, you know, in the spirit and for the sake of gender balance and the ability to really welcome just a whole host of viewpoints and thoughts and perspectives to the table."
Rencher notes the idea of the "diversity dividend" from the book "Earning It: Hard-Won Lessons from Trailblazing Women at the Top of the Business World," written by Joann Lublin. This book features the stories of 52 high-ranking corporate women plus key insight based on their varied experiences.
Of course, women succeeding takes more than just a modern, open-minded company. It's women themselves that need to adjust their frame of mind. In her book, Lublin addresses four leadership traits that emerged from all her interviews. One of the most important of those four is persistence.
"I talk a lot in the book both about the importance of persistence but also the importance of taking a calculated risk in order to advance your career," Lublin says. "And to do that, in many cases these women had to overcome a phenomenon that has been looked at for decades called the impostor syndrome. The notion that I'm not qualified, I'm not good enough, no one will ever pick me, why should I raise my hand?"
She says part of staying persistent is not listening to that internal voice that is stressing the possibility of failure.
"Don't listen to the impostor," she says, "listen to the part of yourself that says if you figure out a strategy, if you figure out a way to take calculated risk, you can achieve career goals."
Rencher agrees. For women to succeed, it's about finding a strong inner voice and being willing to get outside your comfort zone.
"There's that negative self-talk, which is like 'Oh, I shouldn't be here, I don't belong here,'" adds Rencher. "The impostor syndrome is a real thing."
That's why taking calculated risks is important. When you know what you're getting into and see the end goal, you can achieve higher levels of confidence. That way, even if you ultimately fail, you learn valuable lessons while being resilient.
"You need to be weighing the upsides and downsides of stepping out of your comfort zone and making sure not only you know what you're getting into, but you've got the resources and the support from the person you're gonna be working for to give you at least a head start on being successful," says Lublin. "But frankly, if you don't ever do that, it's not gonna be a very interesting career."