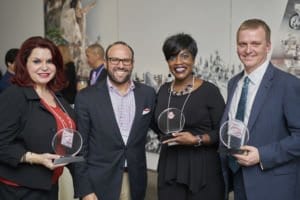 GetFive wants to thank everyone that supported our event this year, especially those who took the time to nominate one of their peers. This is the 10th anniversary of the HR Hero Awards and we are gratified by the continued growth of the event.
We work with many in the HR Network in the context of our transition coaching and executive coaching programs. As part of our relationship with the HR community, we are committed to recognizing the accomplishments of key HR leaders. That is what this event is all about.
We are pleased to announce this year's HR Heroes:
For Volunteerism: Aleyda Meyers, Director, All-Agency Veteran Recruitment & Staffing Initiatives, MTA
GetFive recognizes Aleyda Meyers for her inspiring work in support of military veterans and wounded warriors. It was the Wounded Warrior Project that first told us about Aleyda.
Her efforts have resulted in a large number of veterans – struggling with transition back into civilian life – to secure meaningful careers. Vets call it "Lost in the sauce."
After leaving the military, vets begin applying to civilian positions in the black hole of Applicant Tracking Systems and online applications.
Enter Aleyda.
Last year alone, she and MTA volunteers attended 65 job fairs, meetings, and veterans events; kept up regular messaging to over 200 military liaisons in all branches of the service and forwarded weekly personalized emails to over 1,400 service members. She hosted 7 seminars and symposiums with subjects such as PTSD and Traumatic Brain Injury conferences.
Known as "Sniper" to her Marine contacts, she has worked tirelessly to get vets employed. The results speak for themselves. The MTA has hired almost 240 vets in 2015 and 218 in 2014.
For Terminating With Dignity: Dana Aldis, Senior Director, Training, Communications & Culture, LivingSocial
GetFive recognizes Dana Aldis in the category of Terminating With Dignity. Dana's peers nominated her for the leadership and compassion she displayed when it counted during a difficult retrenchment at her company. She made sure that everyone understood that outbound colleagues were still "LivingSocialites" and should be treated with the utmost respect.
As a testament to Dana's efforts and the LivingSocial culture, quite a few departing employees took to social media, describing how working at LivingSocial was the #bestjobever. They described it as an opportunity to grow, make a meaningful difference, and be a part of something great, despite the unfortunate turn of events.
For Elevating The Strategic Role of HR: Bryan Olson, CHRO, K&L Gates LLP
For Elevating The Strategic Role of HR, GetFive is pleased to recognize Bryan Olson. From what can be observed, Bryan's one year plan at this renowned global law firm might have been a three year plan for those lacking his strategic vision and "bias to action". The list of strategic accomplishments we received from his supporters is too long to include, but we can share one significant anecdote.
Have you ever tried to write a description of the culture of your organization, and to do so in a way that captures why all of your best employees want to work there?  Not the easiest thing to do, right?
Now imagine being brand new to your organization and then giving a collection of the of the world's top lawyers a chance to critique and edit your work.  That's what Bryan did in the process of building the K&L Gates employment brand.
From the time he arrived, he immediately hit the road and started visiting many of the firm's more than 40 offices.  During those visits he had dozens of conversations with people at all levels of the firm, asking them questions and learning about what makes the organization a special place.  Once he had gathered enough input, he pulled together a team of HR and Marketing professionals to boil all of his findings down to one employment brand statement.
Nine months after Bryan joined the firm, he launched a multi-faceted recruiting/marketing plan including updated social media sites, a revamped careers website and more.
For Mentoring: Joanne Rencher, Chief People Officer, Girl Scouts of the USA
For Mentoring, GetFive recognizes Joanne Rencher. Recently, Joanne founded an amazing group called Who's Got Next in HR (WGNinHR). While holding down a full time job, and not just any job, Chief People Officer of the Girl Scouts of the USA, Joanne really threw herself into this endeavor. And, we feel a special connection to her work, because her first interview when she launched Who's Got Next was with GetFive CEO Darren Kimball.
Who's Got Next in HR is a career development and mentoring platform. Joanne believes that mentoring can change lives. Her supporters tell us that she gets a "helper's high" whenever she supports another person.
Her vision is to start a movement. HR is notoriously underrepresented in the C-Suite and she is intent on changing that by giving aspiring HR professionals the guidance they need to broaden their careers.
There is one more anecdote that must be shared about Joanne. When she left her prior company, she was given a gift box.  In it, were 23 handwritten notes from former team members expressing their appreciation for her leadership and mentoring.
Thank you to all involved and Congratulations to our HR Heroes!